PLEASE JOIN US!
Wednesday, December 12th, 2018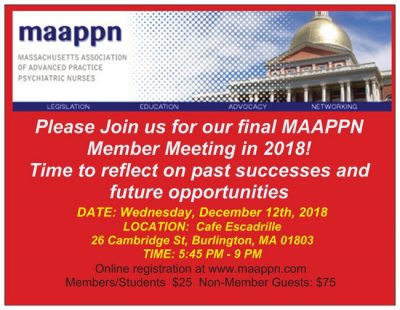 The MAAPPN mission includes promoting the role of the Psychiatric APRN as a high quality, cost effective provider of mental health services.
Please Consider a Donation to the MAAPPN PAC
MAAPPN supports policies that support the Psychiatric Advanced Practice Psychiatric Nurse (Clinical Nurse Specialists and Psychiatric Nurse Practitioners) to work to their full scope of practice.  We accomplish this by promoting legislation and advocating for our members. We have representation on some of the most influential groups and committees in the state that impact our fiscal and practice environments. Please support us through your annual membership and consider a donation to our PAC fund!
MAAPPN TO RE-FILE SUPERVISORY INDEPENDENCE BILL IN 2019
MAAPPN TO RE-FILE BILL IN 2019
An Act to Increase Access to Mental Health Services will be re-filed by  January 18,  2019.  After that time, it will be assigned to a Committee and  will be subjected ot the usual rounds of hearings, testimoney and legislator education. We are hoping for a speedy adoption in 2019 but it depends on factors related to the Executive Branch as well as House  leadership and  their approach to so called "Scope of Practice" bills.  We ask that  MAAPPN members contact their legislators after the Thanksgiving break and ask that legislators sign on in support of the bill. This bill represents the efforts of our organization for the past 10 years to seek supervisry independence in an effort to  eliminate unnecessary oversight and practice to our full scope. MAAPPN continues to work collaboratively with the NP leaders in filing the NP bill  and seek ways to support the advancement of both bills.
BORN Update On Domestic Violence Training
November 7, 2018
Domestic Violence training will be added to the necessary requirements for re-licensure in 2019 when the on-line curriculum has been approved. As of this date, the training portal is not yet available. See the memo below:
H.1801 Fact Sheet
Title: An Act to Increase Access to Mental Health Services
H.1801 (Rep. Kay Khan)
What This Bill Does:
This bill removes the current requirement that physicians supervise psychiatric nurse mental health clinical specialists when they write prescriptions and order tests and therapeutics.
Why This Bill Is Needed:
Mental health disorders are prevalent in our society. Psychiatric and substance abuse disorders affect 1 in 4 adults (Reeves et. al., 2011) and 1 in 5 children (Mental Health, Life Stages and Determinants 2012) and account for more disability than any other group including cancer and cardiovascular disease (Reeves. et. al., 2011).
For adults, 33% of medically unexplained somatic symptoms in outpatient settings are associated with depression and anxiety disorders (Kroenke, 2003), and 14% of adolescents in primary care are diagnosed with a mental health problem (Burnett-Ziegler et.al. , 2012).
PATCH ACT PASSES! Good News For Mental Health Privacy, JUNE 2018
June 28, 2018. An Act to Protect Access to Confidential Healthcare (known as the "
PATCH Act
") was recently passed in Massachusetts.  Its purpose is to protect the privacy of health insurance information.  Currently, health insurance companies send a summary or "explanation of benefits" showing the type of health care services received by all persons covered by the policy with the cost to the policyholder.  This can result in sensitive healthcare information being divulged.  Under the new law, insured dependents can elect to have the summary sent to them and not the policyholder.   The Division of Insurance is required under the law to develop an understandable common summary of payments form.  Insured members or someone who is legally authorized to consent to care for the insured may choose in writing an alternative method of delivery of the common summary of payments from other than the method established by the insurance carrier.  When an insured member has no liability for payment, the person can request the suppression of the summary of payments form for the service.  Sensitive health care services as defined by the Division of Insurance will not be included on the common summary payments form.  "The division, in collaboration with the department of public health, shall develop and implement a plan to educate providers and consumers regarding the rights of insured members and the responsibilities of carriers …."   There are different effective dates for the various provisions of the law (see sections 3, 3A, and 4 of 
Chapter 63 
of the Acts of 2018).
https://blog.mass.gov/masslawlib/new-laws/privacy-protection-of-health-insurance-information/
Call Out To Boston Globe For Article Neglecting To Mention Psych APRNs
October 21, 2018
Some of our members have brought to our attention the article on Oct 21 that mentions the difficulty in finding mental health providers but NO MENTION of the CNS and Psych NP providers. Thank you Janice Goodman and Alex Hoyt for your letter to the Editor!
Psychiatric nurses fill a key need in mental health care
NOVEMBER 04, 2018
These nurses have master's or doctoral-level nursing degrees and national board certification qualifying them as specialists who can assess, diagnose, and treat people with mental health problems. Treatment may include psychotherapy and/or prescribing psychiatric medications as indicated. Advanced practice psychiatric nurses are the only mental health professionals, aside from psychiatrists, licensed in Massachusetts to prescribe psychiatric medications.
According to the US Health Resources and Services Administration and the Massachusetts boards of registration in nursing and medicine, there are an estimated 1,100 advanced practice psychiatric nurses and 3,100 psychiatrists in the state.
By neglecting to include nurses, this article provided an incomplete picture of the mental health workforce in the state. The inclusion of advanced practice psychiatric nurses in this discussion does not negate the struggle many people face in getting access to care, but finding effective solutions is easier when you know all the resources available.
Janice H. Goodman
Alex Hoyt, Boston
The writers are on the faculty of the School of Nursing at the MGH Institute of Health Professions.