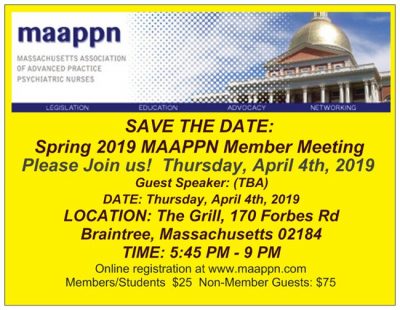 Please Consider a Donation to the MAAPPN PAC
MAAPPN supports policies that support the Psychiatric Advanced Practice Psychiatric Nurse (Clinical Nurse Specialists and Psychiatric Nurse Practitioners) to work to their full scope of practice.  We accomplish this by promoting legislation and advocating for our members. We have representation on some of the most influential groups and committees in the state that impact our fiscal and practice environments. Please support us through your annual membership and consider a donation to our PAC fund!
MAAPPN Chair, Grimaldi, works with DPH to Clarify MCSR Demand for Supervisory MD  Information
Dear Colleagues: I am writing with regard to a recent email I received from the DPH regarding my MCSR because I know many of you received this email as well. Apparently, the DPH is converting to an online registration rather than registration by USPS. In the process, they mislocated some of the supervising physician information. I have attached my email thread with them below for your review. They suggest that you email rather than call them because you will not get through on the phone. You may note that they responded to my email immediately, for which I was grateful.
Thanks,
Diane Grimaldi MAAPPN Chair
1/18/19 MAAPPN RE-FILES SUPERVISORY INDEPENDENCE BILL
The new Massachusetts legislative session has begun! MAAPPN's bill for CNS independent practice,
SD835/HD2885 "An Act to Improve Access to Care by Removing Barriers to Practice for Psychiatric Nurse Mental Health Clinical Specialists"
has been filed by Representative Kay Khan and Senator Joan Lovely. We have between now and February 1 to gather co-sponsors.
The bills (click on links below) have been assigned docket numbers, these are temporary numbers until such time that the clerks can assign permanent bill numbers. For now they should be referred to as:
(THE ABOVE BILLS ARE THE SAME ALTHOUGH THE TITLES ARE
SLIGHTLY DIFFERENT – IT DOESN'T MATTER)
Because CNSs and NPs are addressed in separate sections of Massachusetts law, there are two separate bills for independent practice: one for CNSs, one for NPs. SEE BELOW for a call to action to gather cosponsors for the NP independent practice bill, which MAAPPN also supports. That bill is called the SAVE bill: An Act to Support Access, Value, and Equity in Health Care.
WHEN you call your state senator's and state representative's offices, ask to speak with a legislative aide. Say that you are a constituent and give your full name and address. Ask the aide to ask the senator or representative to cosponsor Representative Kay Kahn and Senator Joan Lovely's bill: An Act to Improve Access to Care by Removing Barriers to Practice for Psychiatric Nurse Mental Health Clinical Specialists. Get the aide's email and follow up the call with an email to the aide including the bill and fact sheet. Ask the aide to get back to you with an answer.
It'd be great if you could personalize the message by giving examples of the shortage of mental health care in your district and saying how lifting the supervision requirement would help you offer better access to mental health care.
1/18/19 FACT SHEET FOR SD835/HD2885
(2019)Fact Sheet: An Act to Improve access to care by removing barriers to practice for Psychiatric Clinical Nurse Specialists
Sponsored by Representative Kay Khan and Senator Joan Lovely
What this bill does:
This bill removes the requirement that a psychiatric clinical nurse specialist must be supervised by a physician to write prescriptions and order tests and therapeutics. The supervisory requirement would be removed only after a two-year period of supervision of the psychiatric clinical nurse specialist by a physician, or nurse practitioner or psychiatric clinical nurse specialist in independent practice.
Why this bill is needed:
In all regions of Massachusetts, there is a shortage of mental health care.  The difficulty accessing care is particularly acute for certain populations, including MassHealth members, residents of rural areas, and children.
At the same time,  in Massachusetts, health care comes at a high cost.  In 2018, MassHealth represented 37 percent of the state budget prior to Federal reimbursement, and 24 percent after Federal reimbursement, heightening the importance of care that is not only high quality but also cost-effective.
Ensuring access to timely mental health and substance abuse care would reduce the need for expensive emergency and inpatient treatment, ameliorate the opiate crisis, and reduce other societal costs, resulting in improved productivity and public health and safety.
Removing the unnecessary practice barrier that is career-long physician supervision will help  address issues of cost and access, and help Psychiatric Clinical Nurse Specialists better serve residents of Massachusetts.
Who are Psychiatric Clinical Nurse Specialists, and How Can They Help?: Psychiatric Clinical Nurse Specialists (CNS) are registered nurses, educated at the master's level or above in the biological and psychological sciences, and authorized to practice as advanced practice nurses by the Massachusetts Board of Registration in Nursing.  Psychiatric CNSs conduct psychotherapy and prescribe psychiatric medications.  The field, developing over the past 60 years, gained prescriptive authority in Massachusetts in 1994.  Psychiatric CNSs provide cost-effective, high quality care.
Not only are Psychiatric CNS reimbursement rates generally lower than psychiatrists, but both the Institute of Medicine (Future of Nursing Report, 2010) and the Federal Trade Commission (FTC, 2014) recommend removal of career-long physician supervision of advanced practice nurses as a way to encourage innovation and reduce cost.
Outcomes of Psychiatric CNSs are comparable to psychiatrists. Studies show similar prescribing practices between advanced practice psychiatric nurses and psychiatrists (Feldman, Bachman, Cuffel, Friesen and McCabe , 2003; Fisher and Vaughan-Cole, 2003) and no difference in patient adherence to treatment regimens (Jacobs, 2005).
Malpractice claims are fewer, and malpractice insurance is less expensive, for advanced practice nurses than for physicians; and studies have found fewer malpractice claims are associated with no direct physician supervision of advanced practice nurses, including clinical nurse specialists (NSO Nurse Practitioner Surveys, 2009 and 2012).
After over 20 years of prescriptive practice, the knowledge and capabilities of psychiatric nurse mental health clinical specialists have significantly expanded, making the original law requiring physician supervision out of date and unnecessary.
While Massachusetts was at the forefront in establishing universal healthcare, we currently lag behind our neighbors in removing the requirement of career-long supervision of advanced practice nurses, which is a significant barrier to practice. Currently, we are the only New England state yet to remove this barrier.
Removing the barrier of career-long supervision for Psychiatric CNSs would help retain an experienced workforce. A 2017 survey of 124 Massachusetts advanced practice psychiatric nurses, predominantly Psychiatric Clinical Nurse Specialists, who were collectively treating a total of  26,554 patients, showed that 95 percent had been prescribing psychiatric medications for 6 or more years, and 76 percent had been prescribing for 11 years or longer.  Additionally, the average age of the group's supervising psychiatrists was 59.
As supervising psychiatrists retire, they can be costly and difficult to replace. Twenty percent of Psychiatric Clinical Nurse Specialists surveyed indicated that they had been unable to work in the past for lack of a supervising psychiatrist, and 20% also indicated that if their supervising psychiatrists retire they themselves will retire or consider retiring.  Updating Massachusetts law to remove the career-long supervisory requirement for experienced Psychiatric Clinical Nurse Specialists would help avert worsening shortage by improving workforce retention.
Support grows for removing barriers to practice for advanced practice nurses:
Twenty-eight states plus the District of Columbia have independent prescriptive authority for clinical nurse specialists. (National Association of Clinical Nurse Specialists, 2019). Legislation to grant independent practice is in process in several other states.
All New England states, and all neighboring states, now have independent practice for advanced practice nurses.
The American Nurses Association (2007) identifies advanced practice registered nurses as "professionally qualified to assume responsibility for clinical functions. They are accountable for their own practice and are prepared to perform services independent of other disciplines in the full range of delivery settings." ( p. 20)
The Association of Academic Health Centers said the "lack of uniformity of scope of practice laws limits professionals mobility and practice" and that "expanding the scope of practice of various health care professionals…would increase access to care" (AAHC, 2008 pp. 21, 26, 27).
The Rand Report for the Massachusetts Division of Health Care Finance and Policy has recommended independent practice for APNs (Eiber, Hussey, Ridgely and McGlynn, 2009).
The Engelberg Center for Healthcare Reform at Brookings Institute (2009) weighs in on the need to amend the scope of practice of advanced practice nurses and other groups.
The landmark Institute of Medicine report on The Future of Nursing (2010) recommends federal and state action to update regulations so that all advanced practice nurses may practice to the full extent of their education and training. This is to ensure all Americans have access to needed health care, and nurses' unique contributions to the health care team are maximized. (p. 1-8)
The Affordable Care Act took a variety of steps to remove barriers to practice for advanced practice nurses, recognizing how these professionals can help increase access to care.
Both sides of the aisle support this and similar bills. Governor Baker has announced that one of his priorities for this legislative session is to update licensure laws to improve access to high quality, cost-effective care.
For further information contact:
Mary Ann Hart  617 797-8488
maryann.hart@hartgovrelations.com
References
AAHC (Association of Academic Health Centers). 2008. Out of Order, Out of Time: The State of the of The Nation's Health Workforce. Washinton, DC: AAHC. Retrieved from
http://www.aahcdc.org/policy/AAHC_OutofTime_4WEB.pdf .
American Nurses Association, American Psychiatric Nurses Association, International Society of Psychiatric-Mental Health Nurses. 2007. Psychiatric-Mental Health Nursing: Scope and
Standards of Practice Silver Spring, MD:  American Nurses Association.
Burnett-Ziegler, I. et. al. (2012). Prevalence and correlates of mental health problems
and treatment among adolescents seen in primary care, Journal of Adolescent
Health, 50(6), 559-564.
Committee on the Robert Wood Johnson Foundation Initiative on the Future of Nursing at the
Institute of Medicine of Medicine. 2010. Future of Nursing: Leading Change,
Advancing Health. Washington, D.C.: National Academy Press, pre-publication copy, p. 1-8.
Rev. 1/19/19
1/25/19  We have an office space for rent in Wellesley. Nice office available in a nine office suite with waiting room. Collaborative Women's Practice with referrals possible.
Perfect location at:
42 Washington Street, Suite #210, in Wellesley Hills Massachusetts. Call or text Susan Cooley APRN at 617-838-6228 if interested.
BORN Update On Domestic Violence Training
11/7/18  Domestic Violence training will be added to the necessary requirements for re-licensure in 2019 when the on-line curriculum has been approved. As of this date, the training portal is not yet available. See the memo below:
Call Out To Boston Globe For Article Neglecting To Mention Psych APRNs
Some of our members have brought to our attention the article on Oct 21 that mentions the difficulty in finding mental health providers but NO MENTION of the CNS and Psych NP providers. Thank you Janice Goodman and Alex Hoyt for your letter to the Editor!  (See below for Letter)
"Psychiatric nurses fill a key need in mental health care.  The front-page article "
Finding no help on mental issues
" (Oct. 21) described a critical shortage of mental health providers available to meet the needs of people seeking psychiatric care in Massachusetts. Unfortunately, the article left out an important group of providers — 
advanced practice psychiatric nurses
.  These nurses have master's or doctoral-level nursing degrees and national board certification qualifying them as specialists who can assess, diagnose, and treat people with mental health problems. Treatment may include psychotherapy and/or prescribing psychiatric medications as indicated. Advanced practice psychiatric nurses are the only mental health professionals, aside from psychiatrists, licensed in Massachusetts to prescribe psychiatric medications.
According to the US Health Resources and Services Administration and the Massachusetts boards of registration in nursing and medicine, there are an estimated 1,100 advanced practice psychiatric nurses and 3,100 psychiatrists in the state.
By neglecting to include nurses, this article provided an incomplete picture of the mental health workforce in the state. The inclusion of advanced practice psychiatric nurses in this discussion does not negate the struggle many people face in getting access to care, but finding effective solutions is easier when you know all the resources available."
Janice H. Goodman
Alex Hoyt, Boston
(The writers are on the faculty of the School of Nursing at the MGH Institute of Health Professions.)
PATCH ACT PASSES! Good News For Mental Health Privacy, JUNE 2018
June 28, 2018. An Act to Protect Access to Confidential Healthcare (known as the "
PATCH Act
") was recently passed in Massachusetts.  Its purpose is to protect the privacy of health insurance information.  Currently, health insurance companies send a summary or "explanation of benefits" showing the type of health care services received by all persons covered by the policy with the cost to the policyholder.  This can result in sensitive healthcare information being divulged.  Under the new law, insured dependents can elect to have the summary sent to them and not the policyholder.   The Division of Insurance is required under the law to develop an understandable common summary of payments form.  Insured members or someone who is legally authorized to consent to care for the insured may choose in writing an alternative method of delivery of the common summary of payments from other than the method established by the insurance carrier.  When an insured member has no liability for payment, the person can request the suppression of the summary of payments form for the service.  Sensitive health care services as defined by the Division of Insurance will not be included on the common summary payments form.  "The division, in collaboration with the department of public health, shall develop and implement a plan to educate providers and consumers regarding the rights of insured members and the responsibilities of carriers …."   There are different effective dates for the various provisions of the law (see sections 3, 3A, and 4 of 
Chapter 63 
of the Acts of 2018).
https://blog.mass.gov/masslawlib/new-laws/privacy-protection-of-health-insurance-information/