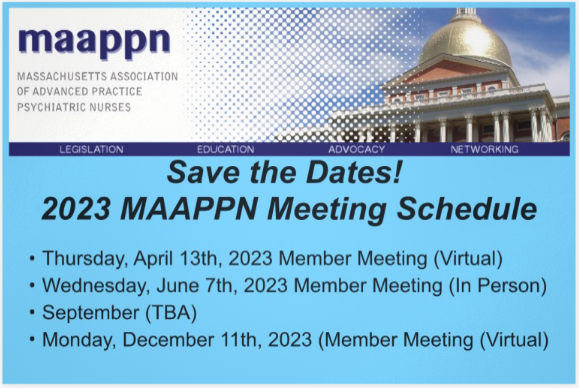 Please join us for the next MAAPPN Member Meeting. Our member meetings are offered for Psychiatric NP's, Psychiatric Clinical Nurse Specialists, Psychiatric Nurse Faculty and students. Meetings are open to all current and  future members. The meetings take place online  andin person throughout the calendar year  Each meeting provides the opportunity to interact with the MAAPPN Board, colleagues and to hear from speakers who have familiarity with MAAPPN interests. Please make your voice heard and attend any and all of these important meetings!
$25.00 for members & students.
$75.00 for non-members.
If non-members join, the extra $50.00 will be applied toward annual dues.